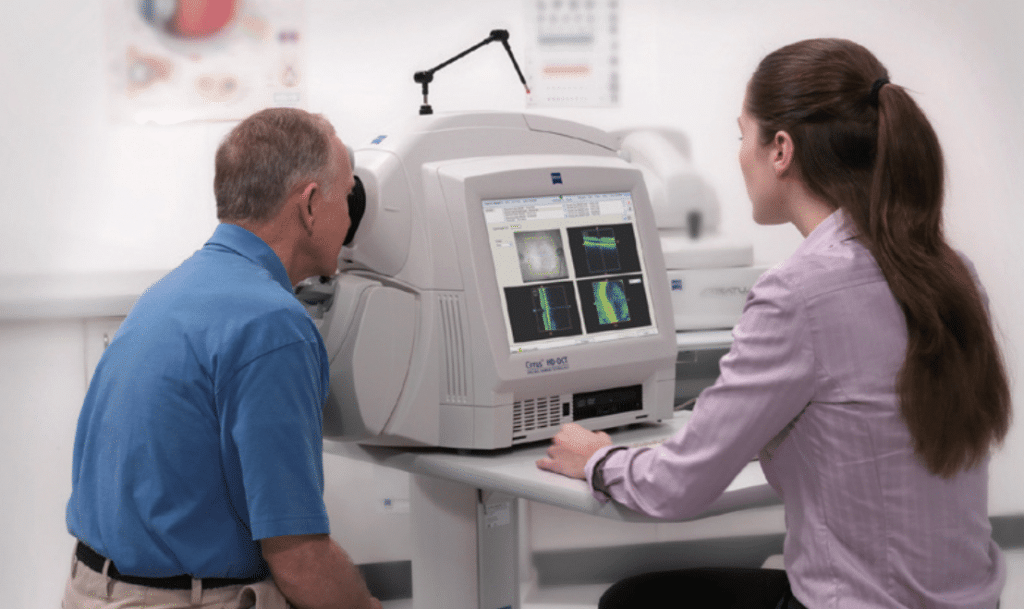 Many people will experience changes in their vision and develop ocular conditions and diseases in their 40s, and even more frequently later on in life. To look out for the earliest detectable signs of change and diagnose retinal diseases, at Icare Optical, we use Optical Coherence Tomography (OCT) device.
Optical Coherence Tomography is a non-invasive diagnostic instrument that uses light waves to take in-depth 3D scans of the retina (internal eye). This procedure takes seconds! Nothing touches your eyes, and there is no pain or puffs of air.
OCT scans are available immediately, which allows Dr. Hadzic to sit down with you, interactively review and discuss the results with you and keep your details on file to refer back to at your next eye exam. The OCT has become the standard of care for the assessment and treatment of most retinal diseases; it is similar to a CT scan, which is used to image internal organs inside the body.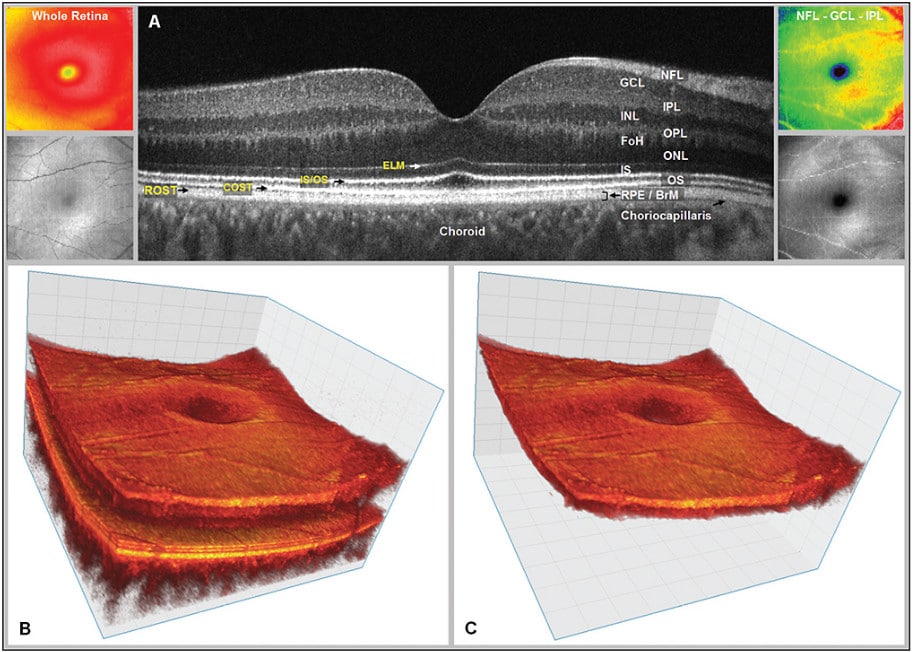 This technology enhances patient care because it allows Dr. Hadzic to see each of the individual retinal layers that are paper thin. With an OCT scan, it becomes easier than ever to detect changes in eye health, as well as early onset of a variety of eye conditions and diseases, including: macular degeneration, glaucoma, bleeding, swelling, macular holes, hypertensive retinopathy, optic nerve damage and diabetic retinopathy (diseases that can cause blindness).
Using an OCT allows for early treatment in ocular disease and dramatically improves the success of treatment, especially in diseases such as wet macular degeneration or retinal detachments – where the eye disease progresses rapidly and can cause permanent vision loss.
OCT is useful in diagnosing and monitoring many eye conditions, including:
Central Serous Retinopathy
Diabetic Retinopathy
Glaucoma
Macular Degeneration
Macular Edema
Macular Hole
Vitreous Traction

We recommend having an OCT scan at least every three years with your comprehensive eye exam, if everything was previously normal at your last eye exam. If you're over 40 or were previously diagnosed with an ocular disease, annual scans are highly advised.