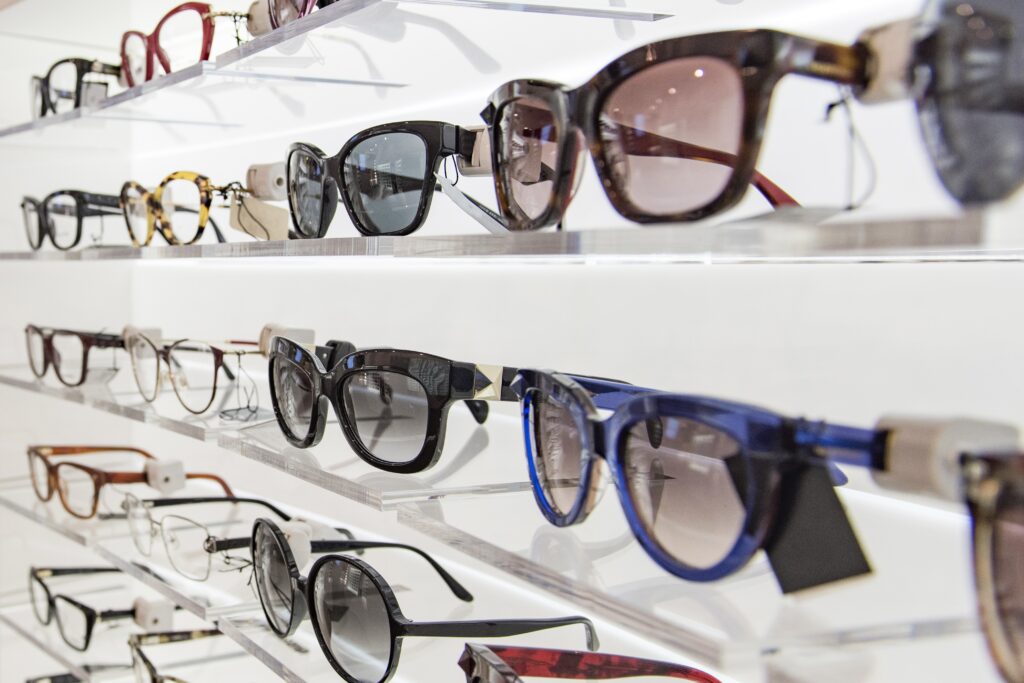 Find the glasses that are just right for you
Glasses say so much about your personality and personal style. At Icare Optical, our friendly and experienced optometry professionals will help you select the proper frame and lenses to fit your budget as well as your cosmetic, lifestyle, and vision needs.
Icare Optical continuously strives to bring the largest, most diverse assortment, and most popular names in eyewear to the Treasure Valley. When it comes to eyewear, it's all in the details. The eyeglass frames that we offer in our optical are produced by the most dependable, recognizable and stylish eyewear companies from around the world – providing quality construction, fashion forward styling, and the greatest value for the dollar. And yes, we accept almost all insurances. The eyeglass frames at Icare Optical are unlike the cheap quality frames you will see at the big box stores and corporate optometry chains. Plus, you will be delighted and amazed by the attention and personal service you will receive from our entire team.
We invite you to stop into Icare Optical and allow us to introduce you to the world of eyewear as it should be… comfortable, durable, attractive and fun to wear! We look forward to meeting you and helping you find your perfect pair of glasses.
Since life is full of different visual needs, we offer personalized lenses for every person and every task:
Polycarbonate and Trivex lenses: are thinner and lighter than regular plastic lenses. When eye safety is a concern, these lenses usually are the best choice for your eyeglasses, sunglasses and sports eyewear. They also offer full protection from the sun's harmful UV rays and are impact-resistant. These lenses are an excellent choice for children's glasses and safety glasses.
High Index Lenses: the right choice if you want thinner, lighter lenses and eyeglasses that are as attractive and comfortable as possible regardless of how strong your prescription is.
Progressive Addition Lenses: are no-line multifocal eyeglass lenses that look exactly the same as single vision lenses, but correct for near, intermediate and distance vision, without the visible lines of bifocal or trifocal lenses. The prescription power of these lenses changes gradually from the top to bottom of the lens surface, providing the correct lens power for seeing objects clearly at virtually any distance. Premium progressive lenses usually provide the best comfort and visual performance.
Bifocals: have only two lens powers — the top portion for seeing distant objects clearly and a second power in the lower half of the lens for seeing clearly at a near, reading distance. The junction between these distinctly different power zones is distinguished by a visible line that cuts across the center of the lens.
Crizal ® Anti-Reflective Coatings: eliminate distracting lens reflections that can interfere with vision, particularly when driving at night or in other low-light conditions. With reflections gone, more light passes through your lenses to optimize your vision with fewer distractions. The lenses look nearly invisible — which enhances your appearance by drawing more attention to your eyes and facial expressions. Anti-reflective coatings make glasses more attractive, so you can look your best in all lighting conditions.
Anti-Fatigue and Computer Lenses with Blue Light Coating: are single vision lenses, which are optimized to relieve visual fatigue symptoms such as headaches, eyestrain and blurred vision from extended use of digital devices. Blue light contributes to digital eyestrain and causes oxidative stress in the retina. It's even possible that long-term exposure to harmful blue light from sunlight and the screens of computers, smartphones and other digital devices may increase the risk of macular degeneration and other eye problems later in life.
Transitions ®Lenses: are clear indoors, but darken automatically when you go outdoors.
The main advantage of transition lenses over standard sunglasses is the convenience of having a clear lens and a tinted lens in one pair of glasses. Perfect for jobs and activities that require you to go in and out of buildings multiple times per day.
Many people think of sunglasses as a fashion accessory, and they certainly can be! But at Icare Optical, we also think of them as a necessity to protect the eyes from harmful UV rays. We have prescription sunglasses, non-prescription sunglasses, as well as polarized lenses available in all the most popular designer brands and latest fashions for children and adults. All of our sunglasses provide maximum protection from the sun with Ultraviolet coatings, blocking the harmful UV-A and UV-B rays.
Come in for a set of trials in your prescription!
Advances in contact lens design and materials have made them a clear, comfortable, and healthy option for many people requiring vision correction and glasses independence. Our office staff has extensive training and experience in fitting most popular styles of contact lenses that Dr. Hadzic prescribes for you, including:
Soft, disposable contacts (daily lenses, 2-week, or monthly use)
Toric contacts (for astigmatism)
Multifocal contacts (now available for astigmatism as well)
Rigid, gas permeable contacts
Some of our brands include: Acuvue One-day, Acuvue Oasys, Air Optix Night and Day, Bausch and Lomb Ultra, Ultra for Astigmatism, Ultra for Presbyopia, Biotrue, Biofinity, Biofinity Multifocals and many others.
HAVE YOU EVER BEEN TOLD YOU CAN'T WEAR CONTACT LENSES? Dr. Hadzic will work with you to find the perfect fit for comfort, vision and ease of use, even if you have been previously told that you can't wear contact lenses.
The Convenience of Same-day Glasses
If you are in a hurry and need your glasses today; we have a full-service lens lab in the store to expertly create prescription glasses and sunglasses. Come in, or give us a call today to find out the specifics about the different lens types that are available within a couple of hours.